Verbiage and vocabulary in the commercial waste industry is as diverse as any other professional industry. Which means that there is no shame in not knowing the difference between roll-off dumpsters versus front load dumpsters. It's actually easy enough…  and anyone considering commercial dumpsters should know the difference between the two. That way, when you pick up the phone or place an order online, you'll know exactly what you're looking for and what to expect.
Understanding the difference between roll-off dumpsters and front load dumpsters is not rocket science. In fact, it's as easy as… 
Roll-Off Dumpster: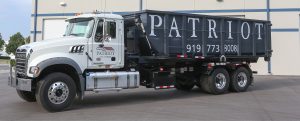 Front Load Dumpster:
In this case, the pictures are worth a thousand words. But let's take things one at a time.
Purpose?

Very Different

Roll-Off Dumpsters are often used for discrete projects such as house renovations, construction sites and large waste producing projects. The idea behind the roll-off dumpster is that it is literally rolled-off onto your jobsite (or property) where it remains while you load it full of waste. Then, when at capacity, we come and remove it (and bring another one if necessary). Think of this as a short-term, moveable waste receptacle.
Front Load Dumpsters are often used with office buildings, restaurants and hotels, churches and places of worship, shopping and retail centers, schools and universities, sports, recreation and other entertainment facilities. This is because the front load dumpster is designed to be on-site and emptied on a regular basis, say once a week or bi-weekly (you can decide a regular pickup schedule or just call when its full).
Items That Can Be Disposed?

Same
Toxic and hazardous chemicals and materials should never be placed in either roll-off or front load dumpsters. These include—but are not limited to—paints, tires, petroleum products, car batteries and electronics. If you decide to rent either a front load or roll-off dumpster, be sure to request a comprehensive list of prohibited items.
Loading?

Similar
The only requirement for both front load and roll-off dumpsters is that the dumpsters not be overloaded or exceed weight specifications. This means that nothing should be piled above the top or hanging over the side of the dumpster. Most front load dumpsters have lids, which can be locked. Roll-off dumpsters have doors, which allow for a person to literally walk waste into the back of the dumpster or drop it in from above.
Price?

Varies
The price of both front load and roll-off dumpsters varies depending on the size of the dumpster, the type of debris, the weight of the debris, your area and how often you require pickup. Also, a roll-off dumpster's price will depend on the length of time you need the dumpster. In contrast, when considering your options for front load dumpsters, remember that many companies require you to enter into a long-term contact.
---
PRIDE. COMMITMENT. EXCELLENCE.
Most people don't think too much about the trash we throw away… But some of us think about it a lot. At Patriot Sanitation Management, we've made it our business to figure out how to manage waste better. To learn more about our services, contact us today: (919) 773-8008 for your free commercial waste removal estimate.